American Buddhist monk Venerable Bhante Vimalaramsi accepts international position for Buddhism
PRWEB, Sunday, December 24, 2006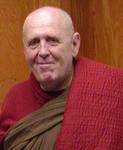 Vimalaramsi Maha Thera
Portland (Oregon) Venerable Bhante Vimalaramsi Maha Thera, American Buddhist Monk, preferring to be known today as Venerable Bhante Vimalaramsi, received word Friday, December 15th that he was officially confirmed as the first Representative from the United States of America to the Buddhist Summit, World Buddhist Supreme Conference. As part of his new position, he will coordinate U.S. representation at the Summit Conference to be held in Kobe, Japan in the Spring of 2007. The goal of the Summit Conferences is to bring together the many traditions of Buddhism in the world, and unify them to produce a united position dedicated to working towards balance, harmony, and world peace.
The Conferences meet every two years. Venerable Bhante Vimalaramsi's position on the World Buddhist Council will allow him to represent U.S. Buddhist interests and discuss a common point future for the various Buddhist traditions throughout the U.S. and the world. There are representatives from over 50 different countries on the World Buddhist Council. To be confirmed as a member, a monk representing each country has to be nominated by other World Buddhist Council members. For the U.S. to be represented on the council, an American born monk with a sufficient sphere of influence was needed. Venerable Bhante Vimalaramsi is the first American born monk to gain the attention of world Buddhist leaders.
This is an unprecedented honor for the Venerable forest monk who lives in the Ozark Mountains of Missouri and has dedicated his life to researching, studying, teaching, and writing about Buddhist Meditation for over 20 years. Venerable Bhante Vimalaramsi became a Buddhist monk in 1986 because of his keen interest in meditation. He went to Burma in 1988 to practice intensive meditation at the famous meditation center, Mahasi Yeiktha in Rangoon. There he practiced meditation for 20 to 22 hours a day. He remained in Asia as an active meditator for 12 years and was offered several chances to remain there as abbott of monasteries. During this time, he was invited to live and teach at the largest Theravada monastery in Malaysia, giving talks each week to up to 500 people. While in Asia, he wrote a book on the Mindfulness of Breathing called "The Anapanasati Sutta-A Practical Guide to Mindfulness of Breathing and Tranquil Wisdom meditation," which has nearly 1,000,000 copies in print and has been distributed in five different languages worldwide.
Venerable Bhante Vimalaramsi is beginning the process of unification during his U.S. tour which includes a three-week stop in Seattle in January of 2007. Venerable Bhante Vimalaramsi is traveling with Buddhist nun Sister Khema, who will also be giving dhamma talks while in the area in January. During their visit, they will be residing at the Atammayatarama Buddhist Monastery in Woodinville, WA. They will be giving dhamma talks on Loving Kindness-Vipassana or Tranquil Wisdom meditation at Nalanda West and various venues throughout the Puget Sound area. Venerable Bhante Vimalaramsi will also be offering a non-residential meditation retreat. For detailed information on the schedule, please go to www.dhammasukha.org/Seattle .
"The Northwest Buddhist community is very honoured that Venerable Bhante Vimalaramsi is beginning his journey of leadership and service with three weeks in the Northwest. We are filled with gratitude that he wishes to spend much of his attention uniting the Buddhist leadership in this area so that he can bring their messages back to the Summit Conferences. Bhante is also very focused on reaching as many people as possible to spread his messages of love and happiness" according to Kathleen Anderson, PhD, a member of the Seattle Buddhist Community who is providing coordination of the visit, "This is really a special and joyous time for all of us. Venerable Vimalaramsi is a most gifted and dynamic meditation teacher and a beautiful and loving human being. We are prepared to host many additional friends and visitors because he will reach far beyond our traditional community, especially when it gets out that in his new position he is basically the Head of Buddhism in our country now."
On November 7-14 Venerable Bhante Vimalaramsi flew to Kobe, Japan to complete a nomination process for his seat as the first U.S. representative for Buddhism to the World Buddhist Supreme Conference. He toured a large portion of Southern Japan and discussed the state of Buddhism in the World with other leaders. This nomination was offered by the Venerable Nandisena, the Representative from Mexico. There were several other members of the Council who were supportive of this nomination including his late teacher Sayadaw U Silinanda who encouraged him over the years. Venerable Bhante Vimalaramsi's position as a Representative for the World Buddhist Supreme Conference representing the United States of America is a hallmark for Buddhism in this country.
Venerable Bhante Vimalaramsi is the Abbott of the Dhamma Sukha Meditation Center in Annapolis, MO. He is also building a Forest Retreat Center, which will become the first American Buddhist Forest Tradition meditation center on U.S. soil.
As the US representative, Venerable U Vimalaramsi now joins other Nations in the task of re-examining the earliest Buddhist texts and practices, and clearly identifying how they are still relevant today.
The Buddhist faith is the sixth largest religion in the world with over 375 million followers. In the United States, the Buddhist faithful number over 6 million with over 500 temples across the nation. Buddhism is ranked among the fastest growing religions in the world with strongest growth occurring here and in Western Europe.
Media Contact: Loran Hickton
Salmon Creek Public Relations
Vancouver, Washington, Portland, Oregon & Boise Idaho
Office Phone 1-360-571-5560
Cellular Phone 1-360-910-2636
Community Contacts:
Mrs. Kelly Jansen (longtime student of Ven.Vimalaramsi's and NW Coordinator for the Dhamma Sukha Meditation Center)
email: e-mail protected from spam bots
Cellular Phone: 425-679-1466
Kathleen C. Anderson, Ph.D. (Seattle Buddhist Community Coordinator)
email: e-mail protected from spam bots
Office Phone: 1-425-488-8172
Cellular Phone: 1-425-773-8671
source: http://www.prweb.com/releases/2006/12/prweb493822.htm