An affable, hardworking Dhammaduta to head L.B.V.
The Sunday Times (Sri Lanka), Sunday, October 14, 2007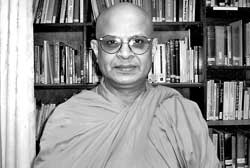 Ven. Bogoda Seelawimala
The London Buddhist Vihara is a hallowed centre of Buddhism in the Western world. Its Headship is indeed a position of much importance and prestige. This position which fell vacant after the passing away of Most Ven. Dr. Medagama Vajiragnana Thera has now been filled with the appointment of Ven. Bogoda Seelawimala by the Anagarika Dharmapala Trust which is solely responsible for the management of the London Buddhist Vihara.
He is indeed worthy of this appointment and it augurs well for the London Buddhist Vihara (L. B. V.) which is serving as the nerve centre of Buddhist activities in the Western world.
Ven. Seelawimala Thera is from Bogoda, a remote village in the Kurunegala district. Being the son of devoted Buddhist parents and being religiously inclined from childhood, he entered the order at the age of 14 years under the tutorship of Ven. Balalle Seelaratana Nayaka Thera, the chief incumbent of Palagala Purana Vihara at Polgahawela as well as the chief Adhikarana Sangha Nayaka of Dambadeni-Harispattuwa.
Thereafter in 1964 for his primary education he entered the Heramitigala Shastralankara Pirivena, Pilimatalawa and did his studies diligently under the supervision of its Principal Ven. Pilimatalawa Chandajothi Nayaka Thera who happened to be a close relation of his.
An intelligent and diligent student he obtained admission to the University of Peradeniya in 1971and obtained the M.A. degree studying under the well known Professor of History Leslie Gunawardhana working on a subject dealing with the influence of Hinduism on Buddhism. In the meantime he joined the teaching profession and served in several schools including Hindagala Maha Vidyalaya and Dharmaraja College, Kandy.
It was in 1992, on the invitation of the most Ven. Dr. Medagama Vajiragnana Thera that Ven. Seelawimala Thera opted to join the L.B.V. as a resident monk. There he was fortunate to come under the direct influence of two eminent scholar monks and Buddhist missionaries.
One was Ven. Professor Walpola Rahula Thera, a constant visitor to the L.B.V. and the other Ven. Dr. Vajiragnana Thera himself an experienced Dhammaduta. Under their guidance and direction Ven. Seelawimala Thera soon sharpened his qualities as a Dhammaduta and is a well sought after Dhamma communicator.
In the meantime utilizing his experience regarding Buddhist meditation which he primarily obtained under the well known meditation master Godwin Samararatne of Nillabe, he began teaching meditation to Britishers. He also trained under most the Ven. Dr. Henepola Gunarathana Nayaka Thera at his Meditation Center in Western Virginia. Thus he equipped himself to serve the large number of devotees who sought his advice and guidance.
Ven. Seelawimala Thera is an affable and modest bhikku who normally shuns publicity. He is a silent worker who does his best in discharging his duties. It is little known that he is actively associated with a number of British societies in Britain, and is a sought-after speaker at schools and university forums on Buddhism and affiliated subjects.
He is also a scholar monk who has contributed a number of learned articles to reputed journals. He serves as the Buddhist chaplain of the West Middlesex University Hospital and Ealing Hospital as well as secretary of the Sri Lankan Sangha Council in Britain.
The experience he gained under the able headship of his predecessor Most Ven. Dr. Medagama Vajiragnana Thera as L.B.V.'s Deputy Head (since 2002) and Acting Head (after the demise of his predecessor) will certainly stand him in good stead to successfully navigate the flagship of Buddhist activities in the western world namely, the London Buddhist Vihara.
We invoke upon him the blessing of the Triple Gem to enable him to dynamically and far-sightedly carry forward the good service he is already engaged in.
Ven. Professor Bellanwila Wimalaratana Thera, Chancellor, Sri Jayewardenepura University.
source: http://www.sundaytimes.lk/071014/Plus/plus00021.html