Myanmar: Cyclone Nargis aftermath
Compiled by Tipitaka Network Newsdesk, Sunday, May 11, 2008
The first cyclone of the 2008 season in the northern Indian Ocean was a devastating one for Myanmar (also known as Burma). On May 2, tropical cyclone Nargis made landfall with sustained winds of 120 mph (195 km/h) and gusts of 150-160 mph, which is the equivalent of a strong Category 3 or minimal Category 4 hurricane. Based on a satellite map made available by the United Nations, the storm's damage was concentrated over about a 18,600-square-kilometre area along the Andaman Sea and Gulf of Martaban coastlines – less than 5 per cent of the country, but home to nearly a quarter of the population.
The latest estimates state that at least 100,000 people may have perished, and thousands more were missing. The Labutta township alone was reported to have 80,000 dead, another 10,000 were killed in the Bogale township, and a million people were left homeless. Bogale lies 90 kilometres southwest of Yangon. Both Labutta and Bogale are located in Ayeyarwady, which occupies the delta region of the Irrawady River. State television reported that in Labutta, 75 percent of the buildings had collapsed. The death toll in Bogale was confirmed by foreign minister Nyan Win on May 6.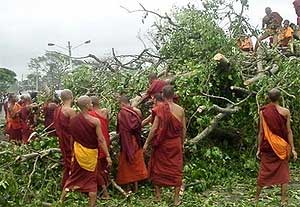 It is the worst cyclone to hit Asia since 1991, when 143,000 people died in Bangladesh. The death toll is the highest from a natural disaster in southeast Asia since the Boxing Day tsunami of 2004 killed 229,866 people in Indonesia, Thailand, Sri Lanka and other parts of southeast and south Asia. With 61 dead, Burma was largely spared the devastating impact of the tsunami, which killed 130,000 people in Indonesia and 35,000 in Sri Lanka.
"The Irrawaddy delta was hit extremely hard not only because of the wind and rain but because of the massive 12-foot (3.5 metres) tidal surge," said Chris Kaye, the U.N.'s acting humanitarian coordinator in Yangon. "The villages there have reportedly been completely flattened."
The Irrawaddy delta is the country's major rice-producing region, known as the "rice bowl of Asia" 50 years ago when Burma was the world's largest rice exporter. The Irrawaddy delta is a vast and populous delta crisscrossed by canals and inlets, qualities that are likely to make the damage extensive and delivering aid extraordinarily difficult. Many villages in the delta remained cut off from the world, accessible only by boat or helicopter.
The densely populated Irrawaddy delta is home to 6 million people. Much of the region, former swampland that was converted during British colonial times into one of the world's largest rice-growing areas, is exceptionally fertile but difficult to traverse.
Meteorologists say the storm, which gathered strength in the Bay of Bengal and whipped up 120 mph winds, took an unusual track heading eastward into the densely populated delta region where a quarter of the nation's population live. Satellite photos showed that flood water, strewn with bloated bodies of the dead, covered thousands of square miles in the Irrawaddy Delta, although it was unclear how deep the water was. The great expanse of paddies that once made this part of Burma the most productive rice-growing region in the world is now a bowl of slowly draining salt water, a catastrophe that will continue to be felt after the immediate aftermath clears.
Food, clean water and medical supplies were in short supply in Labutta where some survivors resorted to drinking coconut milk. They plied through stinking waters, past bodies tangled up in mangrove trees and flattened thatch-roofed houses. On May 7, hundreds of people were taking shelter at the Aung Daw Mu temple, where the monks were seen making places for newcomers to sleep and drying out blankets as children scurried about. A private charity group, the Free Funeral Service Society, had set up a couple of big woks nearby to cook for the people.
The town hospital was devoid of first aid supplies, medicine or other medical equipment, and no doctors were in sight. Desperate relatives tended to the injured with rusty sewing needles and thread.
Richard Horsey, a senior United Nations aid official, speaking in Bangkok on May 8, gave a snapshot of the aftermath of Nargis, calling it "a major, major disaster". "Basically the entire lower delta region is under water. Teams are talking about bodies floating around in the water."
On May 8, Bogale's Buddhist temple and primary school are teeming with the homeless from nearby villages. But many others have chosen to stay near their collapsed huts, building tents from snapped branches and reeds and drying what is left of their rice stocks on blue mesh sacking laid out on the road.
Houses in the poor villages were built on bamboo posts. Most were stripped to their skeletons in the storm; none has escaped intact. In the grounds of a Buddhist temple in Kawhmu, monks in orange robes were hauling pieces of rusty metal sheeting to cover the exposed roof of their monastery. Burma's wet season begins in a fortnight, when rains less lashing than the cyclone but still overwhelmingly heavy pour down over this lowland area. Without roofs, villages like this will be uninhabitable.
Piles of rotting corpses are stacking up in Kanyinkone and other remote villages, with residents saying they don't have enough fuel to cremate victims of the cyclone. What scarce fuel remains is being used to ferry clean drinking water by boat from the nearest town of Labutta, which was also devastated by the cyclone. The village's own wells have been contaminated with salty sea water. Villagers are collecting bodies of the dead, but are not cremating them since they are trying to conserve precious fuel to deliver supplies to survivors. There are still many dead bodies of people and animals along the river. It's going to be a big problem for people downstream who drink water from the river.
Official media also reported that 162 on Haing Gyi island off the country's southwest coast, and 671 in Yangon were killed.
In Yangon, residents were plunged into a primitive existence on May 5, using candles instead of electricity, lining up to buy shrinking supplies of water and hacking their way through streets blocked by trees felled in the cyclone. Thousands of trees were uprooted. All the roads were blocked by the trees. Older citizens said they had never seen Yangon, a city of some 6.5 million, so devastated in their lifetimes. The disaster is the country's deadliest storm on record.
Prices of food, fuel and construction materials have skyrocketed, and most shops have sold out of candles and batteries on May 6. An egg costs three times what it did on May 2. With pumps not working, most homes were without water, forcing families to stand in long lines for drinking water and bathe in the city's lakes.
Residents were angry that the government failed to adequately warn them of the approaching storm and has done little to alleviate their plight. Many complained the 400,000-strong military was doing little to help victims after the May 3 storm, only clearing streets where the ruling elite resided but leaving residents including Buddhist monks to cope on their own against the huge tangles of uprooted trees, and to move chunks of rooftops torn off buildings.
The residents, as well as Buddhist monks from the city's many monasteries, banded together, wielding axes and knives to clear roads of tree trunks and branches torn off by the cyclone winds. Several residents said the streets were like forests, scattered as they were with trees and debris.
In the worst-affected areas, 95 percent of the people had lost their homes and everything they owned, and were in desperate need of food, water and shelter. However, aid deliveries is difficult. On May 9, the ruling junta seized a shipment of United Nations food aid intended for victims of the cyclone. In a statement issued on May 9, the military junta said it was willing to receive disaster relief from the outside world, but would distribute supplies itself rather than allowing in relief workers. The few aid organisations on the ground, such as Doctors Without Borders, Save the Children, and the World Food Program, all reported delays in supplies while people are dying of hunger and thirst.
source: http://ap.google.com/article/ALeqM5greyFH3qkj9mc9oagSoulgjN4KHgD90FBT580
source: http://www.axilltv.com/at/news.php?id=4818
source: http://www.iht.com/articles/ap/2008/05/07/asia/AS-GEN-Myanmar-Desperate-Survivors.php
source: http://www.independent.co.uk/news/world/asia/ front-line-of-a-disaster-inside-burmas-dead-zone-822837.html
source: http://www.khaleejtimes.com/darticlen.asp?xfile=data/theworld/2008/May/ theworld_May298.xml&section=theworld&col=
source: http://www.mg.co.za/articlePage.aspx?articleid=338695& area=/breaking_news/breaking_news__international_news/
source: http://www.nytimes.com/2008/05/10/world/asia/10myanmar.html ?_r=3&hp&oref=slogin&oref=slogin&oref=slogin
source: http://www.signonsandiego.com/uniontrib/20080506/news_1n6myanmar.html
source: http://www.theage.com.au/news/world/nowhere-to-run/2008/05/06/1209839644713.html
source: http://www.thestar.com/article/422325
source: http://www.timesonline.co.uk/tol/news/world/asia/article3890208.ece